Components of the curriculum
The Bachelor's degree programme can be divided into the following subjects: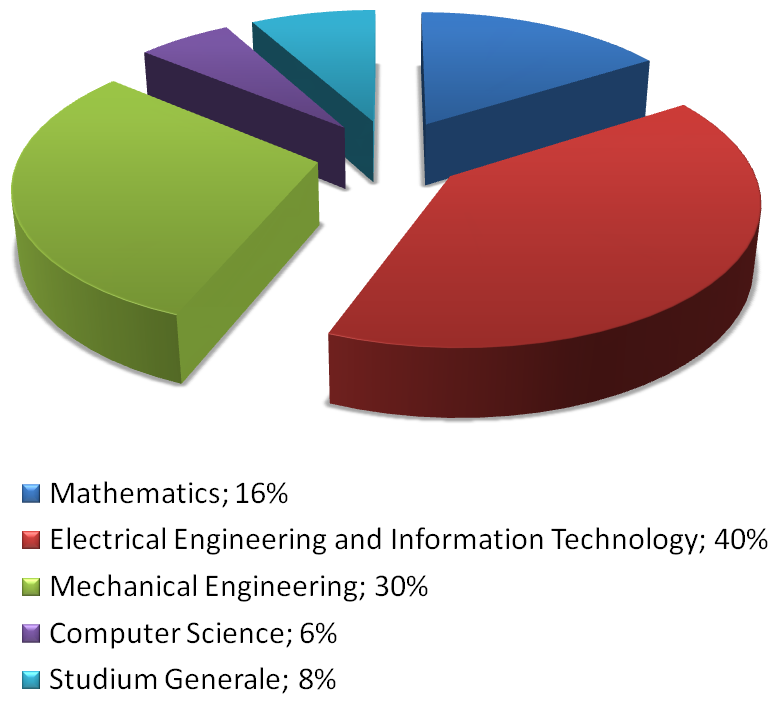 Components of the curriculum
Please note that depending on the selected specialisation and the topic of the Bachelor's thesis, the number and kind of subjects can vary to some extent.
A central aspect is the tight integration of research and teaching, which guarantees an education on a high scientific level combined with high practical relevance.
The program includes lectures from the following areas:
Fundamentals of mathematics and computer science
Electrical engineering and information technology
Mechanical engineering and engineering mechanics
Electronics and digital technology Electrical, hydraulic and pneumatic actuators
Sensors
Control technology and system dynamics
In addition, students have to decide on a focus area by choosing compulsory electives in research areas in electrical engineering and information technology as well as mechanical engineering. They can choose between different, interesting and innovative research fields.
In addition to their technical education, students are also being prepared for the non-technical aspects of their professional lives. According to the VDE-Ingenieurstudie, these include first and foremost soft skills and language skills, which are. boosted by team work and the course programme of the Language Resource Centre (SPZ) of TU Darmstadt. We put great emphasis on preparing our students for working in international project teams and being able to carry out management functions. This is the goal of the Studium Generale programme section. In this elective area, students can choose lectures in the areas of economics, social studies, language, and environment. A mentoring programme facilitates their academic studies. In addition, students can participate in many exchange programmes and are able to study abroad at least some of the time of their academic studies to enhance their intercultural competence.
The Bachelor's thesis concludes the Bachelor's degree programme that has been accredited by the ZEvA. After completing the Bachelor's degree programme, students can enter the consecutive Master of Science programme in Mechatronics. The MSc in Mechatronics from TU Darmstadt qualifies them to enter doctoral programmes.